Creating Your First Survey
Creating Your Very Own Survey Is Simple
We've done our best to make it as simple as possible to get your survey up and running in as few steps as possible. Below is a quick guide to help get you started with Super Simple Survey.
Creating Your First Survey
Once logged in, you're going to land on your Dashboard, from where you can manage all your surveys.
Click "Welcome to your first survey" on the dashboard. 





The Survey Creation Page:

You'll be redirected to the Survey Creation Page, which will look this:

The Survey Creation Page 
Now that your survey has been created, here are the basics of getting around the Survey Creation Page:

Adding a Question:
On the left pane there are a host of questions that you can add. Find the one you want to pop onto your survey.
Feel free to drag the question onto the survey, or just give it a good ol' fashioned click.
Your question has been added, and the changes saved automatically.

Editing a Question:

Now that you have your question on the survey, at some point you may want to edit the wording or the options. 
Here's how:
Click on the question you'd like to edit.
On the right of the survey you will see a list of options that are available for your question.
Go ahead and play around.
All changes are saved automatically.
Note: different questions have different options, so playing around to see for yourself can be useful!


Pages - What Are They and Why Do I Need Them

Pages are exactly what they sound like; different pages that you can house questions within your survey.

When you create a survey, you have three pages by default which are shown in the top panel:
Start Page:

This page introduces your users to your survey and what it's about. Not everyone wants a welcome page though, so feel free to remove it by selecting the "X". 

Page 1:

This is the first page that will contain your newly added questions. Your survey needs to contain at least one page.

Add page button "+":

You can add additional pages by clicking this button.

End page:

This is the page that your users see when they complete the survey. It cannot be deleted. This page is a great opportunity to thank your respondents for taking part in your survey, or link them through to any page you want.
Note: this page is still shown for a few seconds when you redirect off to your own page at the end of a survey, and cannot be deleted!
Removing pages is simple. All you need to do is select the page you'd like to delete and press the delete button on the right. Once clicked, you will be asked to confirm the deletion. If you choose to delete a page, you cannot undo that change.






Styling Your Survey - Adding a Logo or Background, or Changing Your Button Color

When you create a survey, you can upload your very own logo or background, or you can just change your background color.

To access the styling options, all you need to do is press the "Styling" button in the top right of the survey creator, which will bring out the styling panel on your right.

Selecting or uploading a logo or background:

We have given you four awesome backgrounds to choose from that you can simply select.
If you would like to add your own, feel free to upload it by selecting the "Upload Background" button.
If you would like to remove a uploaded or selected background, simply click the "Remove Image" button.
Positioning your background and tiling your background:

All uploaded 

images 

can be aligned either to the left, in the center, or to the right, after which they're snapped to the top of the survey (vertical alignment is not possible).
You can choose to have your image static or tiled (repeated both vertically and horizontally).
Changing your background or button color:

You can change your background or button color to suit your logo or branding by clicking the color codes for the respective element.
This will allow you to choose a fixed color or gradient, and once you're happy, all you need to do is click Save my styling.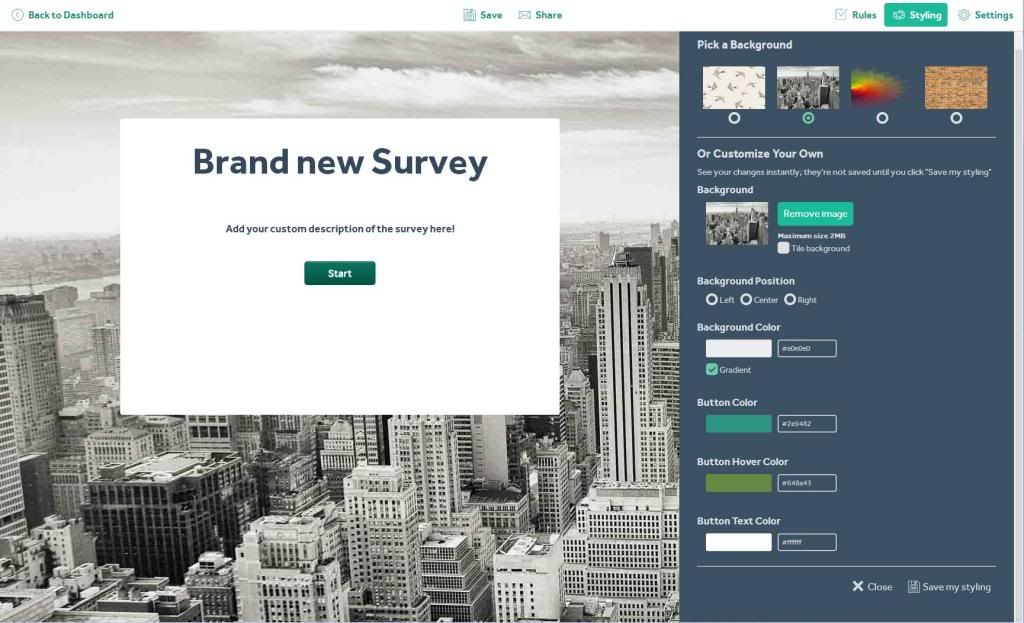 Once you have your survey all ready to go, you may want to check it out prior to sending it. Below, we outline some of the functions you may want to make use of prior to sending.

Every change you make automatically gets saved, but we have included a save button for your piece of mind. All changes are saved to our awesome cloud server, so you never have to worry about losing any changes again!

You can immediately preview the survey in the editor by clicking the Preview button. Note that you will not be able to answer questions whilst in preview mode

.
Redirecting To Your Own Site at the End of the Survey

Sometimes you may want to have someone redirect to your own website once the survey is finished, or to any other site for that matter. You can easily add this in on the End page settings.





Making Use of Rules (If This, Then That)
We have implemented a ton of very cool features that makes it very simple to add rules to your survey. Some things that you can do with rules based on specific answers:
Hide or show subsequent questions.

End the survey.

Send an automated email.

Redirect to a website.
Rules can be accessed easily via the "Rules" button on the top panel, but for a full breakdown of functionality, please see our "Rules" knowledgebase article.


We hope that you found this article helpful. If you need any additional info or suggestions, please drop us a line at hello@supersimplesurvey.com and we'll get back to you in no time!