Using your own domain for surveys (customised domains)
Overview

Many users would like to utilise their own or custom domain for their surveys 

(mainly for anonymity or branding purposes)

. 

While many companies either exclude this feature, or charge huge sums of money for it, we've made it super simple to get this up and running on all our packages, free included.

In order to make use of this, you will need to to point a CNAME record for the domain you'd like to use to www.supersimplesurvey.com
If you do not manage your domain directly, just pass this knowledgebase article to your webmaster and they can have this up in no time.

If you are familiar with domain settings, here is how to make the changes yourself


Adding a CNAME record


Step 1: Log into your domain registrar



Step 2:

 Go to your DNS settings page for the domain you would like to use



Step 3:

 Add in a new CNAME record

Host: Give it a name of your choosing (example: survey)
Points to: www.supersimplesurvey.com
TTL: Can leave as is or lower to the lowest value available (Note: not all providers show this, so don't be alarmed if it is not available)



Step 4:

 Save your changes

Note: It may take up to 24 hours for your domain registrar to propagate the changes



How to test it is setup correctly: 




Once the domain has propagated you will be able to access the SuperSimpleSurvey home page by going to hostname.yourdomain.com (the hostname is the name you gave in step 2 of setting up the CNAME record.



Note: These changes may take a while to reflect as the domain changes need to propagate globally. If it has taken more than 24 hours we suggest to contact your domain provider.



How to access your surveys on with your custom domain:




All you need to do is take the original survey link and replace www.supersimplesurvey.com with your custom domain.





Example:



Original: 

https://www.supersimplesurvey.com/Survey/7430/Brand_new_Survey/

Custom: 

https://hostname.yourdomain.com/Survey/7430/Brand_new_Survey/
GoDaddy Example

Here is a quick overview on how to do it with GoDaddy:

Step 1:
Login to your GoDaddy account and launch your domain service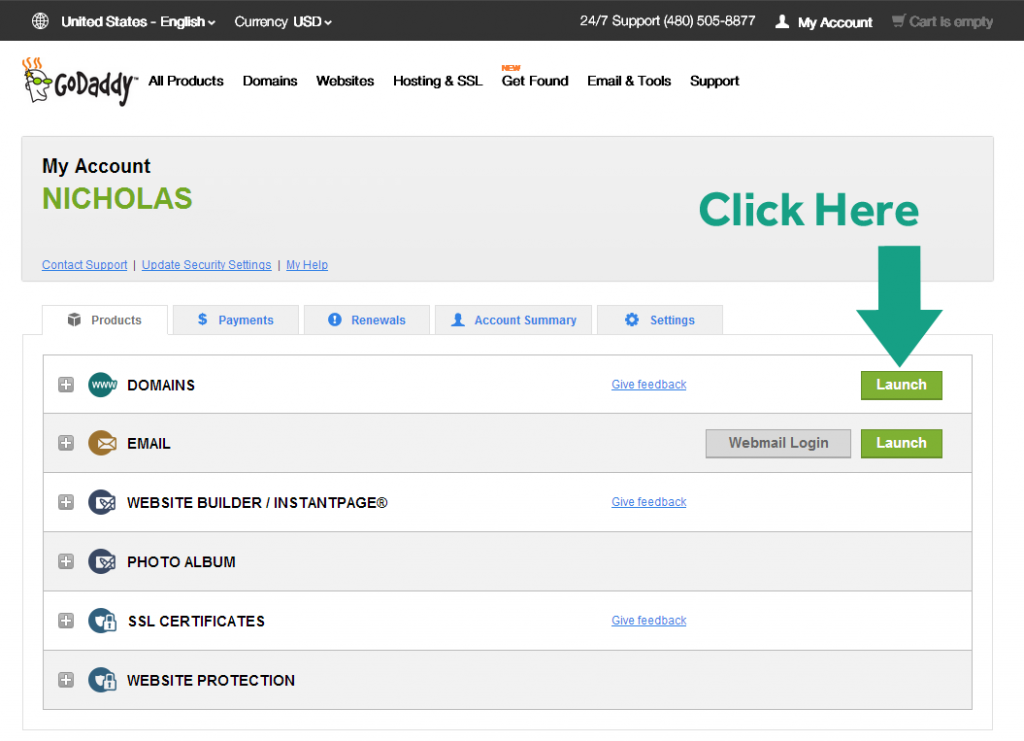 Step 2:
This will take you to your domains page where all your domains are listed. Click on the domain that you would like to use for your custom URL






Step 3: 
You will now be taken to the Domain Details page. Once here, simply click on the "DNS Zone File" tab and then press the "Edit" button






Step 4:
Now, you just need to add in the CNAME, this is quickly done by
1. Find the "CNAME (Alias)" table and at the bottom press "Quick Add"
2. Add in a host name for what you would like the subdomain to be called (most people like to use "survey", but it's completely up to you)
3. In the "Points to" section add in www.supersimplesurvey.com
4. Click "Save Zone File"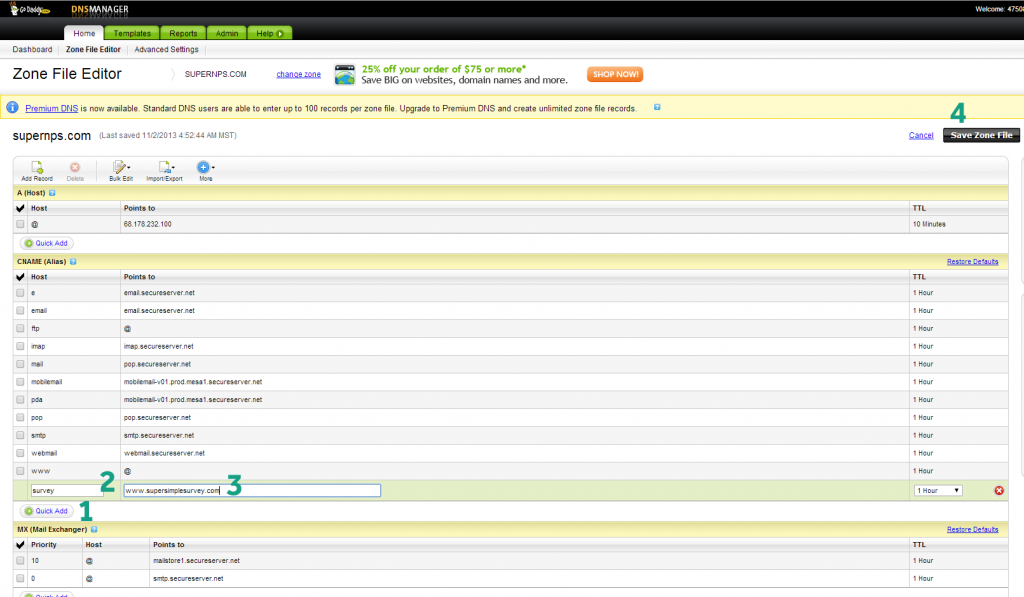 How to test it is setup correctly: 
Once the domain has propagated you will be able to access the SuperSimpleSurvey home page by going to hostname.yourdomain.com (the hostname is the name you gave in step 2 of setting up the CNAME record.

Note: These changes may take a while to reflect as the domain changes need to propagate globally. If it has taken more than 24 hours we suggest to contact your domain provider.



How to access your surveys on with your custom domain:
All you need to do is take the original survey link and replace www.supersimplesurvey.com with your custom domain.

Example:

Original: https://www.supersimplesurvey.com/Survey/7430/Brand_new_Survey/
Custom: https://hostname.yourdomain.com/Survey/7430/Brand_new_Survey/


If you have any questions, please feel free to get in touch with our awesome support team at hello@supersimplesurvey.com